Delightful Dubai
The word Dubai itself had impressed me as I had read a lot about it on the internet which is a renowned city in UAE. I was surprised to know that am gonna visit Dubai on a special occasion -My birthday, which was even more exciting. This trip was completely planned by my husband and it was the most wonderful trip ever. The excitement level was so high in me that I was literally counting days to depart. As I had a dream of being on top of Burj Khalifa and it's gonna be true and my joy doubled when I understood we will be flying in world-class airlines Emirates, which is one of the top airlines in the world.
It was March 1st, 2017, we had a flight from Mumbai to Dubai at 10.25am. As we had to be in airport 3hrs before for an international departure, so we started from Pune at 3 am early morning. We had reached Mumbai International airport by 5.45am, but our check-in counters were not yet opened. We had a hot cup of coffee just before check-in. We waited for some time for the counters to get opened, within no time there was a big queue formed. We also had to go through the queue and get our baggage checked in. Now it was time for immigration. From our past experiences, we had spent more than 2hrs in immigration queue which was tiring. Fortunately this time it just took 2mins to clear the immigration. Ahh..we felt so lucky to have a day flight !!!
We had 2 more hours to depart. So we had to roam around in the airport to pass the time. But our favorite thing is to see taxied aircraft or it might be landing or a take-off. A small quiz would always happen between my husband and myself to guess the aircraft type. We both enjoy doing this and no doubt, he always wins as he is too crazy about aircraft. After all this, we had light breakfast in one of the restaurants and sat near our boarding gate. As we were nearing the boarding time, I could see the sun in the sky shining brightly and Mumbai was gearing up with its heat. At the same time, I got a thought about the heat which we would face in Dubai. This was my husband's second visit to Dubai, so he had an experience of Dubai heat and he was mentally prepared for it. But there was a surprise for both of us. ????
We boarded our Emirates Boeing 777-300 ER aircraft, everything looked clean, tidy & refreshing. My husband also had told me Emirates was the largest customer of Boeing 777 & Airbus A380. We got into our seats which were behind the wings and settled down. In-flight amenities were amazing. I could see some Kannada movies too in its channels which made me happy. It took off over the Arabian Sea from Mumbai and the 90% journey was over the sea. After some time, we were served with Indian cuisine veg meal. It was tasty and I enjoyed having it. A glimpse of it is below.
As the aircraft flew over the land from the sea, the first land we could see is Muscat, Oman region. I had a super smartphone this time, so I could capture every moment very nicely. Aerial views of the desert were just wonderful. While the flight was getting down in Dubai, all I could see is big flyovers, a large intersection of wide roads, & number of Emirates aircraft.
Yes, we landed in Dubai at 12.15pm local time. Everything was new and big for me. Even the airport is very huge. From our landing terminal, we came to a different terminal by internal metro for immigration and to collect our baggage as well. Here, we spent endless time to get through immigration. We had booked this tour through Make My Trip and their representative was waiting for us to pick up from the airport and drop us to our hotel. We collected our baggage and went towards the exit. We saw a placard in our name, held by an executive from MakeMyTrip. We soon got into one of the luxury cars and drove through. The very first surprise was the weather. It was cloudy, breezy, soothing. But that was winter season in Dubai, we did see some drizzling during our trip. I was surprised to see the sides of the road in Dubai are decorated with small plants & flowers which adds to the beauty of the city. The distance from the airport to hotel was just 4km and we could reach in 10mins.
Hyatt Regency Dubai Creek Heights – Dubai – United Arab Emirates
We had booked a 5-star hotel – Hyatt Regency Dubai Creek, its one of the tallest hotel buildings in Dubai and from the rooftop of this hotel Burj Khalifa, Dubai downtown could be seen. This hotel was beyond our expectations. Its located near Healthcare city, 5min walk from a metro station, Creek Park and so on are its nearby places. The design of the hotel is very attractive that it is like a cap structure over the building. It has up to 40 floors, very well maintained, and friendly staff. We checked in & requested for a creek view room. There is mostly no balcony concept in hotels due to heat, but one side of the room is a glass wall to enjoy the view.
As we had only 4 days in hand to explore the beautiful city, we didn't want to waste a minute also. It was already late noon, we were not sure if we could get some Indian food in our hotel, so we had some snacks which we had brought. Later we got ready to go out. That evening we had a plan of meeting one of my cousin & later head to Mall of Emirates. The metro station was very near to hotel, so we decided to go by metro as the destination station was near to my cousin's place and it was an hour of journey from my hotel to her place.. So far, we had not purchased the Tourist sim for which I could not contact my cousin to inquire about the route and we lost our way a bit while finding her place. But local people helped us to go in right direction. It was a nice evening with my cousin and her 2 small kids, we met after many years and overall it was a good time. We saw the distance from her place to Mall of Emirates and it was way too far. By then, we had lost all energy due to journey, sleepless night. Hence, we decided to get back to hotel and relax. We had not thought of dinner as my cousin had served us very good Indian food.
After reaching hotel room, out of curiosity I just opened the in-room dining menu & was surprised to see a variety of Indian cuisines right from masala papad, rotis, paneer dishes, biryanis, all types of dals and so on. We ended up ordering a Veg biryani, Dal Makhani, Banana Smoothie for our dinner. Service was fast and we got it within 15mins. Here's the pic of our dinner. This really made our day.
Dubai Dolphinarium – Dubai – United Arab Emirates
Its day 2 in Dubai, we had Dolphin show for the first half and City Tour for rest of the day. But the first thing we wanted to do is to buy a local sim card as it was difficult to contact our families in India because WhatsApp call, skype call was not allowed in Dubai. We can just chat through messages there. So, we went to Wafi Mall, which was less than 10min walk from our hotel, bought a local sim of DU network. From there, we took a taxi to Creek Dolphinarium as we had a show booked at 11 am.
The huge auditorium was half filled by school students that day and a half by visitors. The 45-min show was just fabulous with 2 adult dolphins and a seal. They were very well trained and it was completely entertaining and enjoyable. The dolphinarium is located inside Creek Park, after the show, we went to the other side of the park to see the creek and clicked lots of pictures. This park was just 2min walkable distance from our hotel. Of course, the weather was awesome for the day. Later, we returned to the hotel and got ready by 2 pm for City Tour.
 Dubai City Tour – Street 41 d – Dubai – United Arab Emirates
We were picked up from our hotel by 2 pm and transferred to Hilton Garden Inn hotel, from where we were supposed to get on a big bus to go on a city tour. All Indians on the bus, it was fun altogether..!! The very first thing we saw is Sheikh Zayed Road, this has so many lanes which drive through Downtown and till Abu Dhabi as well. We came across Emirates Towers, the full skyline of Dubai and ofcourse Burj Khalifa on the way. Our tour guide was from Pakistan named Ali, who spoke in Hindi all the time and explained to us completely about Dubai very nicely.
Then we drove through Palm Jumeirah, Atlantis. This is a man made the island in Palm shape, where residential properties were built on each of its leaves. Every property/villa is connected to a private beach. Mostly it is acquired by Britishers. The whole island is built by Nakheel group of builders. Hats off to their idea.
 Burj Al Arab – Dubai – United Arab Emirates
Next stop was at Jumeirah beach, where we got to see Burj Al Arab Hotel. This is the only 7-star hotel in the world. It stands out in the Dubai skyline because of its iconic design. The shape of the structure was made to mimic the open sail of a ship and was designed by architect Tom Wright.
 Dhow Cruise Creek – Dubai – United Arab Emirates
From here, we drove back on Sheikh Zayed Road and reached creek to go on a Sunset Dhow Cruise. It is a traditional wooden boat which sails on the banks of Dubai creek. This was a nice way to spend an evening with a loved one. Since it was a cloudy weather, we could not see the sunset but it was too cold and breezy while we moved on cthe ruise. They also serve food and beverages there. There is an audio guide which explain as and when we come across any important building. We also get to see old side of Dubai through this
 Dubai Museum – Dubai – United Arab Emirates
Next we were then taken to Dubai Museum. When one thinks about Dubai, the first thing that comes into the mind is its breathtaking buildings and skylines, along with unmatched shopping and entertainment facilities. But a trip to city's major historical monument – Dubai Museum will leave you spellbound, as you know how Dubai has come a long way from an ordinary fishing village to mark its presence on the world map as an internationally recognized trade and tourism destination.
 The Dubai Mall – Financial Center Road – Dubai – United Arab Emirates
The last stop of the day was Dubai Mall. This is largest mall in the world and one can a have a multiple day tour here as you cannot cover everything here in one day. It is really a huge mall, you have to see it to believe it. Dubai Mall also provides access to Burj Khalifa, Dubai Fountains and world's largest Aquarium so it's the perfect base to spend a couple of days. Plenty of restaurants to choose from with world wide cuisines.
 At The Top Burj Khalifa – Sheikh Mohammed bin Rashid Boulevard – Dubai – United Arab Emirates
We had a pre-booked ticket for 124th floor of Burj Khalifa at 9pm. We had almost an hour of time to enter, we collected our tickets and went to see Dubai Fountain which was just mesmerizing. Some say the best things in life are free. And this certainly proved true here in Dubai at The Dubai Fountains – the world's largest choreographed fountain system on the lake. These fountains are animated with performances set to sound and music. This is so addictive that you cant really stop yourself seeing at them. The sheer beauty of the fountains working their magic in sync with the music being played and lavish scale of the water dance against the backdrop of the Burj Khalifa was just magical.
Before the fountain show started, I got to see Burj Khalifa from below. That was my dream in front of me. I just stood silently watching it from bottom to top. It was amazing. The design, architecture, sparkling lighting, richness of the building was just wow. People there were clicking more pictures. But I just wanted to see it, see it & see it completely and digest that being in front of it which I had dreamt of. Nothing can beat this. Of course, I also clicked lots of pics later. I could not take my eyes off that.
It was time to get inside Burj Khalifa. That was even more exciting for me. A lot of security checks happen before anyone enters into it and it is necessary too. We entered elevator which took less than a minute to take us on the 124th floor. And at the top is an observatory deck from where we could see the whole of Dubai – 360 degrees. It's a stunning view and lot of photo opportunities. It's a lifetime experience to be here. Everything is pretty well organized here from entry to exit.
It was just out of the world experience that I just kept watching everything. It was a breathtaking view from the 124th floor. We could go to the 125th floor too. Beyond that are private properties where public is not allowed to go. The Arabic name Burj Khalifa means that Burj means Tower and Khalifa is the Sheikh who sponsored to build this. Hence, with his name it is Tower of Khalifa is Burj Khalifa. I was too much satisfied with this great opportunity and was not in a mood to get down to ground floor. But I had to. ???? We were given food coupons for our choice of meal. So we got packed our meal and had it in our hotel. So it was a day full of exploration and I cannot forget this day as I lived my dream of being on top of Burj Khalifa.
 Marina Mall – Dubai – United Arab Emirates
It was a cool Friday morning, our 3rd day in Dubai. We had planned to visit my husband's uncle's family who resided in Jebel Ali area, which was the other side of Dubai. For the second half of the day, we had desert safari scheduled. Jebel Ali area was far off, so we decided to go by Metro. But when we reached metro station it came to our notice that, on every Friday no metro starts before 10 am. We were invited for breakfast so we had to be there by 9 am, hence we hired a taxi and covered 40km in less than 20min. It was a super fast drive though..!! We had a lovely time with their family and uncle took us to a very big Gurudwara which was nearby his place. Later a drive through Dubai Marina and a small visit to Marina Mall.
 Ibn Battuta Mall – Sheikh Zayed Road – Dubai – United Arab Emirates
We were dropped at IBN Battuta Mall. This is yet another mall we liked and features in Top 10 but not for shopping. It's the design and architecture which makes it worth a visit. This mall is the world's largest theme based shopping mall. It consists of six courts whose designs are inspired by the country/culture that the Moroccan-Berber explorer Ibn Battuta visited (Egypt, China, India, Persia, Tunisia, and Andalusia). When you enter every section there is a huge exhibit which represents that country and the entire decor is simply marvelous. The entire mall is spread over one level which means no getting lost and can shop at your own pace. We hired a taxi and returned to the hotel by 1 pm. Relaxed for some time and got ready for a desert safari.
 Desert Safari Dubai – Dubai – United Arab Emirates
By sharp 3 pm, we were picked up and drove through the desert in Toyota Land Cruiser. I had heard that it would be a roller coaster ride and it was not less than any roller coaster. I completely enjoyed the whole ride. For this, I can say that you haven't experienced Dubai completely until you go for the Desert Safari. It's half a day of action-packed experience and those who love thrills, this one's really gonna be memorable. We drove all the way to almost Oman border from our hotel and we were just 70km away from Oman, where a lot of vehicles were assembled to go for sand dune bashing together. Here the tires are deflated and the dune bashing experience begins. It's a pure thrill for the next 30 minutes. To watch the driver control the vehicle is a great experience. Every driver trying a new trick to impress his customers and the presence of teammates driving alongside add to his confidence. Our driver was a Pakistani, we had a Korean couple and a solo traveler with us in our cruiser. Post this we were taken to a camp where there was Belly dancing performance, BBQ dinner, unlimited soft drinks, and water. They also had stalls for henna, tattoos, camel rides, photo shoot. After all the enjoyment in the desert, they dropped us back to our respective hotels. All in all, it was a great 6 hours experience.
Dubai is also famous for its sand art. Apart from the fact that watching the process of making these is quite awesome, this is probably one of the most representative souvenirs you can get from Dubai– a bottle of sand with the colorful images of this lovely desert city inside. Yes, am the one who bought one of these and didn't purchase any gold in Dubai. ????
 Dubai Miracle Garden – Dubai – United Arab Emirates
Finally, my birthday arrived and achieved the purpose of this trip. We had a lot of things to cover for this day. After wonderful breakfast, we first headed to Dubai Miracle Gardens. Who would have thought that the world's most beautiful garden can be found in a dry desert land? Dubai Miracle Garden is indeed a miracle, a piece of paradise in a city where everything is possible. ???? Here, there are pyramids, cubes and domes made of grass and colorful blooms. I was stunned to see a huge area of flora in vivid colors enclosed in a huge area with flowers, and it holds a name in Guinness Book of World Records too..!! It was complete with a lot of picturesque views and we did click a lot of pics as well. It was a cloudy and windy day which helped us walk all over smoothly without much tiredness.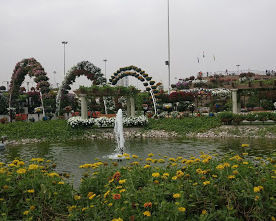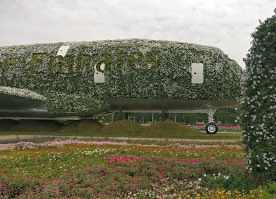 The Lost Chambers Aquarium – Dubai – United Arab Emirates
From here, we proceeded to Lost Chambers Aquarium in Atlantis, Palm Island. Once we stepped in we were blown away by the architecture and detail that went into the design of the aquarium. I felt like we were exploring the ruins of Atlantis, lost for thousands of years deep beneath the sea. There were a lot of variety of fishes including a few types of Jellyfish, Red-bellied Piranha, Lionfish etc. The lighting was very low and photography in some areas was bit difficult. The best part of this aquarium is that each one of them has a different feel to it. Some have a brighter outlook while others play with colored lights. The ambiance gives a special feeling, bringing back the treasures of an old lost city. Totally, it was fun to watch them.
 Atlantis
After visiting this giant aquarium, we roamed inside Atlantis and had some refreshments in one of the restaurants. Later, we came out and walked on the seashore of Persian Gulf. Beyond Atlantis, there is no land and is fully covered by the Persian Gulf. So, this acts as a Gateway entry point to Dubai for sailors. As the weather was so cool and breezy, it was so romantic to walk on the seashore and clicked lots of pics too.
 Mall of the Emirates – Dubai – United Arab Emirates
Our next stop by was the Mall of Emirates. It is one of the luxury malls in Dubai. This isn't just any ordinary mall, its equivalent to a shopping resort! This mall can be everyone's favorite, with the variety of retail stores to explore from, an indoor skiing arena, an entertainment amusement park and what not..!! This mall will certainly give you satisfaction and make you value your trip to Dubai even more! We did most of our shopping from this mall.
 Burj Khalifa – Sheikh Mohammed bin Rashid Boulevard – Dubai – United Arab Emirates
We were tired by this time and returned to the hotel by a taxi. Just got freshened up and went ahead to Dubai Mall again to have a glimpse of Burj Khalifa again as Dubai Mall is too big, that evening was not just enough to do it so. After 6 pm, every 30mins the fountain show starts and it lasts for 7-8 mins. How could we miss it when we were there? We saw the first show at 6 pm and opted for a boat ride in the same lake. By the time we boarded the boat, it was time for next fountain show. Yes, it started when we were also on the same lake. It was just amazing to watch the dancing of water for the music and Burj Khalifa in the backdrop. Just loved every moment there. As the sun was going down, our surrounding turned orangish with blue water and a mesmerizing skylines surrounding us. Look at these pictures below.
What a memorable evening it was..!! We returned back to the hotel and went to rooftop restaurant at 40th floor in our hotel itself. We could see a very nice skyline view from the rooftop. But it was too windy and cold that we couldn't sit for 15mins also. We got back to our room and ordered food there. Next day we had a return flight at 1 pm to Mumbai and we drove back to Pune and reached home by same night.
Dubai has much more to offer for us. We couldn't see few places like Old Dubai, Gold Souk, Zabeel Palace, JBR walk and so on. No regrets at all..!! Whatever I have seen, I have enjoyed it to the fullest. A perfect trip that was planned so we could cover all important places.
I had few myths about Dubai which were proved false when I visited Dubai. Few of them are listed below.
I had thought that Dubai would be full of Arabic culture with a lot of Arabian crowds. But I saw a diverse culture. Tourists from all over the world visit Dubai. The local population of Dubai has fewer Arabians and more of Britishers, Indians, Pakistanis, Philippians and so on. Seeing our faces, taxi drivers would start talking in Hindi and made us feel comfortable.
I believed that there would be everywhere Arabian Language. Yes, it was there but equally, English was also used everywhere. Local people also know English very well and we didn't face language problem throughout our trip.
Every country would give permanent residence visa after completion of certain years of stay there was my belief. But, in UAE one can never be a permanent resident of that country. Even if you work in the country for years and have kids in Dubai, neither you nor your kids are able to become citizens. To stay in the country, as a non-citizen, you have to be employed.
By this, I wanna conclude my blog with hell lot of sweet memories. I would definitely wanna go back again soon here to re-live my memories.
---
The blog has been written by Sushma Neeraj and it was originally posted on tripoto. Send a Hi5 to Sushma for this wonderful piece of article.